Front with D ring 40mm clip range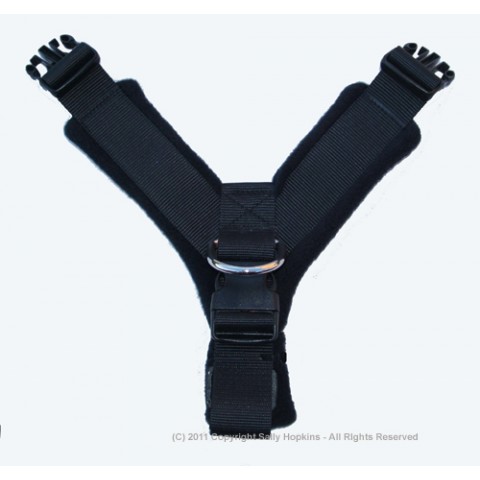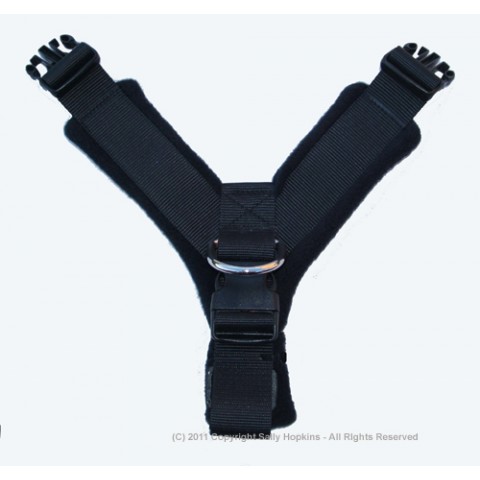 Front with D ring 40mm clip range
This Front Piece is part of a Perfect Fit Harness and has an extra D ring placed in the front of the dog's chest. This adaption offers handlers the option of clipping a double ended lead to both the top of the harness and this front D ring, enabling them to improve steering of the dog and reduce or prevent pulling. The D ring is placed securely in exactly the correct position on the dog's body so that the harness does not slip or move from side to side when a lead is attached at the front, particularly when the dog is trying to pull forwards or away from the handler.
Also the D ring is high enough on the dog's front chest so as not to impede the dog's natual movement.
Our unique design prevents the D ring coming unstitched or compromising the manufacture of the front piece should the dog be a very strong puller.
THE FRONT D RING SHOULD ONLY BE USED WITH A DOUBLE ENDED LEAD THAT IS ALSO ATTACHED TO THE TOP PIECE -
THE FRONT D RING IS NOT DESIGNED TO TAKE ALL THE DOG'S WEIGHT
To make a complete harness you also need to buy a Top Piece and Girth Piece - they must all have 40mm Clips.
The S (small) Front Piece is exactly the same size as the M (medium) Front but the shoulder straps are shorter and are not adjustable.
IT IS PARTICULARLY SUITABLE FOR YOUNG AND ADOLESCENT DOGS WHOSE SHOULDERS HAVE NOT YET DEVELOPED.
When the dog is older you will need to buy a size M front.
The M (medium) front part of a Perfect Fit Harness, and is suitable for strong medium to large sized dogs.
The L (large) Front part of a Perfect Fit Harness, and is suitable for larger sized dogs.
The XL (x-large) part of a Perfect Fit Harness, and is suitable for giant sized dogs.
Click here for Breed Size Chart
Manufacturer - Dog Games Ltd - The original designers of this style of harness
Country of Manufacture - United Kingdom
Front Piece - 40mm + RING
Type of Padding - Fleece
Washing Instructions - Machine washable at Low Temperature - Do Not Tumble Dry